England, because it is the largest of the four countries, acts as the industrial and trading center of the United Kingdom of Great Britain and Northern Ireland. London remains the capital and largest city of England.
The government of England, both a parliamentary democracy and constitutional monarchy, serves as the government for the entire UK. The Parliament, the chief lawmaking body of UK, consists of the monarch, and the Cabinet (senior members of Parliament, led by Prime Minister) governs the UK.
The Royal Family
Prime Minister Boris Johnson
England has a mixture of city and rural living. Because of the Industrial Revolution, about 80% of people came to live in cities for work and left the countryside and today, 95% of people live in urban areas.
London
English Country Cottage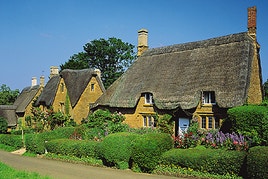 Information from World Book Online