Skip to Main Content
It looks like you're using Internet Explorer 11 or older. This website works best with modern browsers such as the latest versions of Chrome, Firefox, Safari, and Edge. If you continue with this browser, you may see unexpected results.
Ivailo Djilianov [Photographer]. (2008.) Мусала, Maljovica ridge as seen from Mt. Musalla [Digital Image]. Retreived from flickr.com on March 14, 2019. Licensed under Attribution-ShareAlike 2.0 Generic (CC BY-SA 2.0).
Bulgarian Cuisine
Patatnik
Prep Time | 15 mins, Cook Time | 45 mins, Total Time | 1 hr
Patatnik is a traditional Bulgarian dish characteristic of the Rhodope Mountains. It is prepared with grated potatoes, onions, salt and spearmint.
Course: Main Course
Cuisine: Bulgarian, Vegetarian
Servings: 8 people
Author: Mike Benayoun
Ingredients
3 lb potatoes
2 onions
2 tablespoons vegetable oil
2 tablespoons dried spearmint
4 eggs
1 tablespoon butter , for greasing
4 tablespoons flour
3 tablespoons butter
Salt
Pepper
Instructions
Preheat oven to 450 F.

Peel the potatoes, and grate them in a bowl.

Peel the onions and grate in the same bowl.

Add salt, pepper, vegetable oil and dried mint. Crack eggs and add them to the mixture. Stir well.

Grease a round pan with 1 tablespoon of butter, then sprinkle 2 tablespoons of flour to dust the pan.

Pour the potato mixture into the pan. Press with your palms to flatten. Sprinkle last 2 tablespoons of flour on top. Add a few dollops of butter on top.

Bake for 45 minutes.
---
Citation: Benayoun, Mike. "BULGARIA: PATATNIK." 196flavors.com, N.d. https://www.196flavors.com/bulgaria-patatnik/
Databases for Additional Research
Humanities International Complete

Citations and selected full-text for key Humanities journals. Excellent for cross-discipline searching.

JSTOR

Back issues of selected scholarly journals in ecology, economics, history, mathematics, music, political science, statistics, and other humanities and social sciences.

Project Muse

Contains full texts of articles from a selection of prestigious humanities and social sciences journals.
Music
Folk Music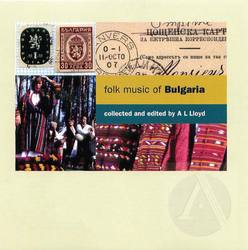 Kapanski Ensemble