Skip to Main Content
It looks like you're using Internet Explorer 11 or older. This website works best with modern browsers such as the latest versions of Chrome, Firefox, Safari, and Edge. If you continue with this browser, you may see unexpected results.
Nasir Khan. (Photographer). (2015). Boats crossing the river Buriganga [digital image]. Retrieved from commons.wikimedia.org. Used under Creative Commons Attribution-Share Alike 2.0 Generic.
Facts in Brief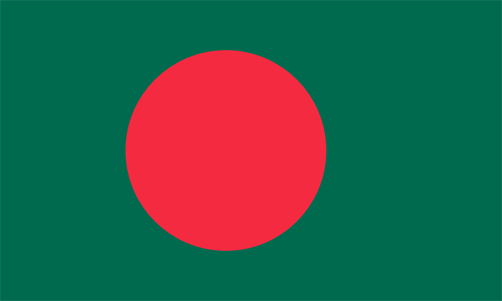 The People's Republic of Bangladesh lies in southern Asia. Bangladesh was formerly East Pakistan, one of five provinces into which Pakistan was divided when the United Kingdom's former Indian Empire was partitioned in 1947. In 2001 Sheikh Hasina Wajed became the first Prime Minister to complete a five-year term of office. The Government of Khaleda Zia stepped down in October 2006, having also completed a full term. Sheikh Hasina Wajed began a second term of office in January 2009. Parliamentary elections in January 2014, in which the ruling Awami League won a large majority, were marred by an opposition boycott led by Khaleda Zia's Bangladesh Nationalist Party. The capital is Dhaka. Bengali is the state language..
---
Citation:
Bangladesh, in Europa World online. London, Routledge. University of Tennessee, Knoxville. Retrieved 02 October 2018 from www.europaworld.com.
Map of Bangladesh
Bangladesh. Image. Britannica Academic, Encyclopædia Britannica, 11 Aug. 2018. academic.eb.com/levels/collegiate/assembly/view/725. Accessed 2 Oct. 2018.
Snapshots of Bangladesh from World Book Online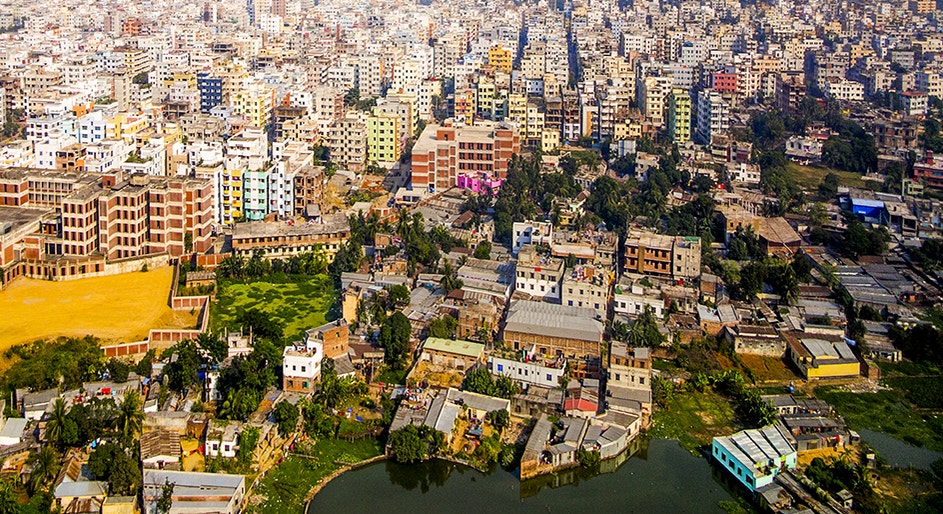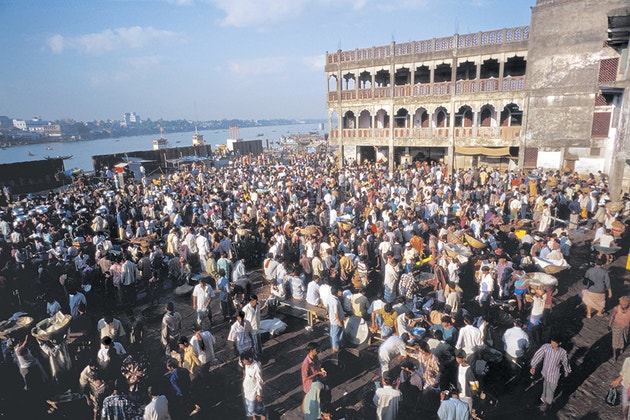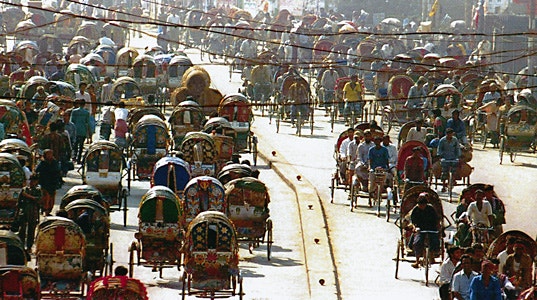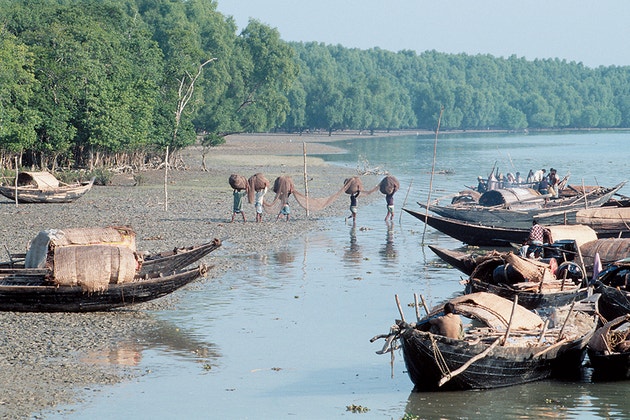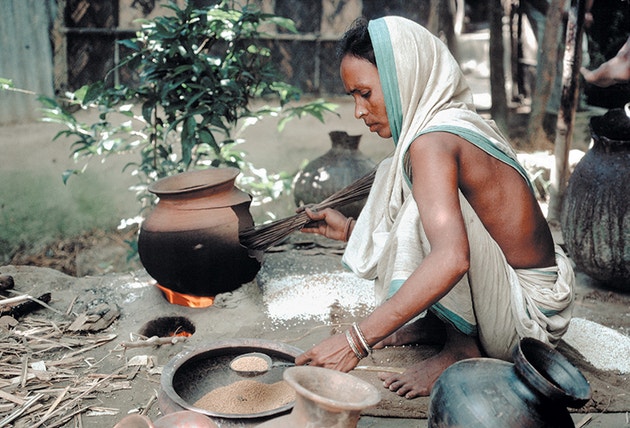 Agriculture in Bangladesh
Bengali Cuisine
Bengali Five-Spice Roasted Chicken and Vegetables
SERVES 4 TO 6 | 1 HOUR, PLUS AT LEAST 2 HOURS TO MARINATE
Baked in a very hot oven, the sauce reduces until the panch phoron seeds cling to the chicken and vegetables in chewy nubbins.
Ingredients:
2 1/2 tbsp. vegetable oil
2 tbsp. panch phoron
2 dried bay leaves
2 1/2 tbsp. grated fresh ginger
21/2 1/2 tbsp. minced garlic
2 1/2 tsp. ground coriander
1 1/2 tsp. kosher salt
l 1/4 cups plain whole-milk yogurt mixed with I1/2 tsp. flour
4 each bone-in chicken legs and thighs (separated; 2 lbs. total)
1 each red and yellow bell peppers, cut into chunks
2 large carrots, quartered lengthwise, cut into 3-in. pieces
1 lb. Yukon Gold potatoes, peeled and cut into chunks
Directions:
1. Heat oil in a small frying pan over medium-high heat. Add panch phoron and cook, stirring, until seeds begin to pop (about 30 seconds). Reduce heat to medium. All at once, add bay leaves, ginger, and garlic. Cook, stirring, until ginger softens (about 3 minutes). Remove from heat, stir in coriander and salt, and let stand until fragrant (about 30 seconds). Add/ yogurt, stir to loosen browned bits, and let marinade cool.
2. Marinate by putting chicken, bell peppers, and carrots in a 1-gal resealable plastic bag. Scrape in yogurt mixture, seal, and squish to coat. Chill (2 hours or overnight).
3. Bake chicken: preheat oven to 475 degrees with a rack set in upper third of oven. Put potatoes on a large rimmed baking sheet and squeeze contents of bag over them. Mix to coat, then pat ingredients into a single layer. Bake, turning food with a wide spatula every 15 to 20 minutes and ending with chicken skin side up, until browned (40-45 minutes).
per serving 377 cal., 45% (171 cal.) from fat; 25 g protein; 15 G Fat (4.6 G Sat.); 23 G Carbo (3.2 G Fiber); 595 MG Sodium; 7S MG Chol.